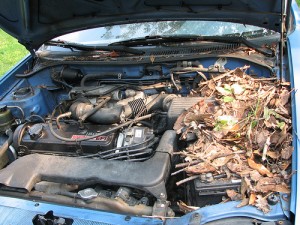 Kathleen and I have been lucky enough to be able to carpool until now, leaving our neglected Tercel "Tercy" (see right) to the rats and other inhabitants. The Good: runs well, good mileage, heat works. Bad: cramped driver's seat, smells kinda like feet, back doors don't open from outside, battery leaks out in a few days if you don't disconnected the terminals, A/C refrigerant leaks out in a few weeks, radio barely tunes in close stations and has to be cranked up to be heard, wipers are weak and finicky and occasionally creep across the window when you accidentally glance the stick, a thorough exterior filth, sometimes after it stops the electrical system refuses to operate until you dis/reconnect the battery, on occasion the headlights have been known to flicker out. That's at least what I knew of before coming to work.
Kathleen needs the reliability of the van for her new school and I'm going to be biking to work most days, but for those rainy or, recently, 20 degree mornings (ugh) I grudgingly bought an orange UF decal for Tercy. This morning I got to the parking garage with only one stall—I rarely drive stick—and made my way up to the much dreaded Gate of Hate, in which it requires you to slide your Gator1 card.
Perhaps to offend the few still driving stick, they place these gates on a healthy grade. While rolling my window down I find it can't be rolled down enough to get my arm out; I'll have to open the door. I engage the parking brake and release the brake pedal—the car begins to roll backwards, of course. While keeping a foot on the brake, I open the door and manage to reach the slot.
Perhaps to offend me personally, my !@#$ Gator1 card won't activate the gate, which repeatedly repudiates me with beeps of dissatisfaction. As I realize I'm going to have to abort mission, a car pulls up behind me. Door still opened, foot firmly on brake, torso stretched out the side, I somehow compel the woman to leave her warm luxury sedan to come slide her card. (This is how I got in yesterday after I'd just received my decal in another enraging series of events. I had assumed my card issue would be resolved by today. That I assume anything to do with Parking "Services" will Just Work Out is a sign of chronic delusions.)
The lady swipes her blessed card and retreats, giving me moments to act. As I release the brake to hit the gas, the car jets backward at a furious pace. I hammer the gas, the car peels out, and I careen around the corner at the top with my door flying half open, surely making me look a maniac. I quickly park and head down the stairs lest the lady is someone of influence within the college.