Skate 1 was and remains awesome. EA delivered an amazing city in Skate 2, but tinkered with the mechanics, breaking a perfect thing in my opinion. I eventually re-bought S2 and it's OK, but returning to S1 always feels like switching to a pair of well-worn in skate shoes—skating is easier when you can feel the board and not slip around it. S2 brought better filming options (downloadable content $$$!), but turning now looks terrible, as do no-complies and most of the other junk they added.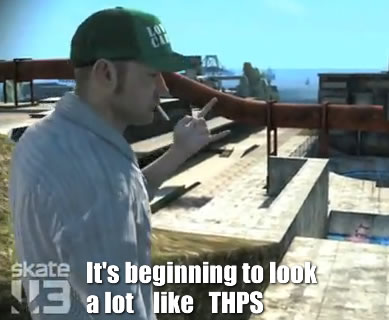 For S3 it looks like the Black Box team have broken new ground to bring you…skating with cigarette.
Dan Drehobl's a great skater—who in interviews wishes he could quit smoking—but after playing the S3 demo, I wish whatever time was spent modeling his cigarette would've been squeezed into bringing back the feel of S1. Was Skate really missing darkslides, underflips, and an "easy" mode? The Skate world continues to look less like the real world and more skate park.
And what's with killing the Skate Reel upload servers for a game only 3 years old? Can I get more bitter and nostalgic?